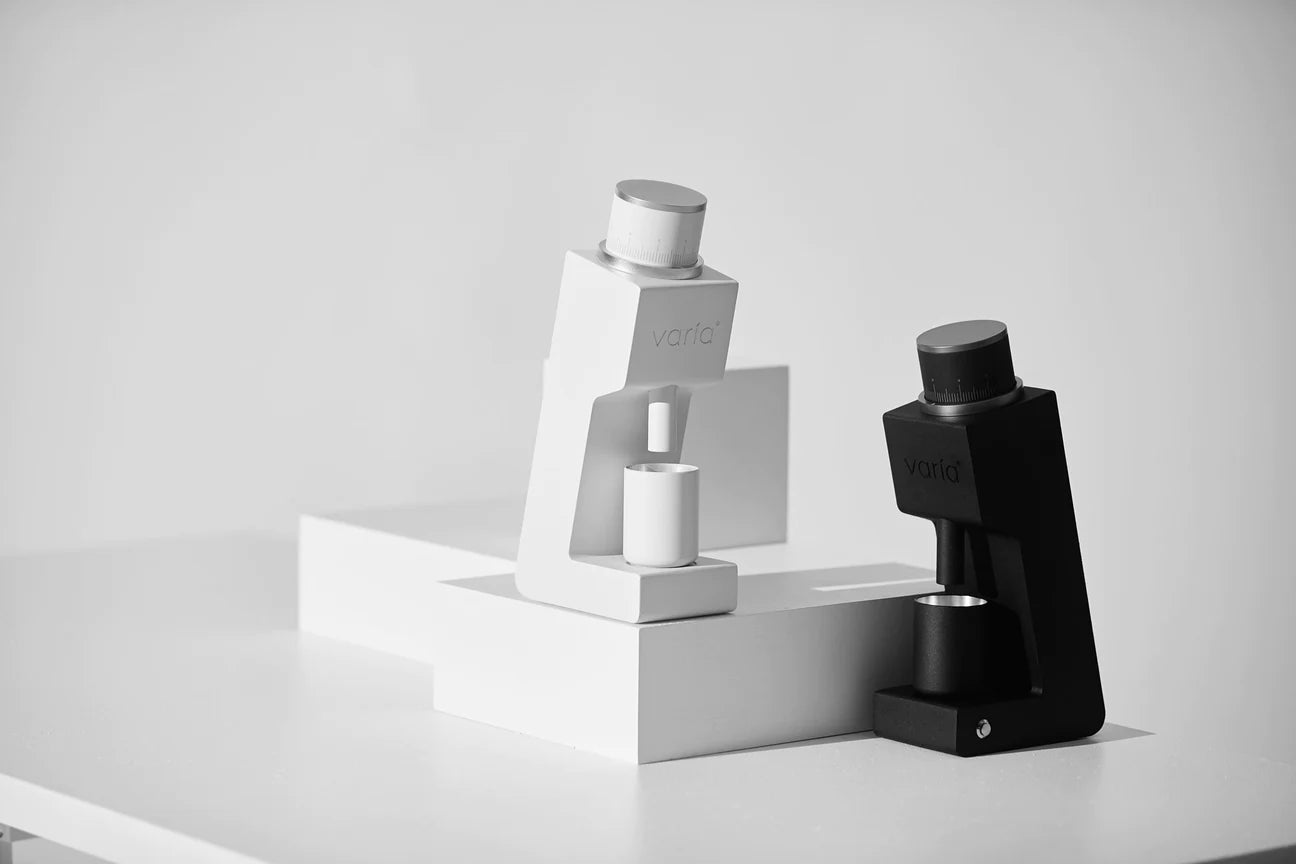 Introducing the 2nd Generation Varia VS3 - Filter & Espresso Coffee Grinder
The Varia VS3 coffee grinder impressed us with its exceptional precision, powerful motor, intuitive design, consistent grind quality, premium build, and low-noise operation. It is an indispensable choice for our coffee-loving team, who value perfection in every cup.
2nd Generation upgrades
The Varia VS3 2nd Generation model features a new motor construction with stainless steel gearbox, delivering a grind speed of 190RPM for both espresso and filter settings while maintaining consistent precision

The updated assembly with improved alignment and concentricity of the driveshaft and burr set, resulting in extreme consistency and precision

Single machined outer burr. The VS3 - 2nd Generation features a single-piece stainless steel outer burr with precise alignment and stability for consistent particle distribution.
Anty static design. The anti-static design incorporates metal parts treated with anti-static oxidation surface treatment, ensuring minimal static retention and ensuring that coffee only comes into contact with metal throughout the entire process, from the hopper to the dosing cup.
Innovation & Precision
The Varia VS3 2nd Generation grinder allows you to get precisely the grind you want, with stepless adjustment that is operated by turning the 30g hopper in the desired direction. With virtually endless particle size options, you have full control over your grind.
Minimalist Design
The minimalist design of the VARIA VS3 was made with the user in mind. This sleek grinder takes up minimal counter space and can be easily stored away when not in use. However, if you prefer to store it out in the open, its modern design is sure to complement any kitchen decor.
The grinder for any coffee lovers kitchen.
The designers of this amazing machine have truly thought of everything - making it the perfect addition to any coffee lover's kitchen. The VARIA VS3 Electric Grinder even has non-slip silicone feet installed on the base, ensuring that it stays in place while you grind. Are you intrigued? We thought so.
Zero Retention Focus
First of all, the sloped geometry with a 76.5° acute angle eliminates the need to purge when grinding different coffees. This is because there is virtually no retention when using this grinder - meaning you'll get a consistent grind every time. The VARIA VS3 is asy to use and provides consistent, precise results.
If you're looking for an electric grinder that gives you full control over your grind, look no further than the VARIA VS3.