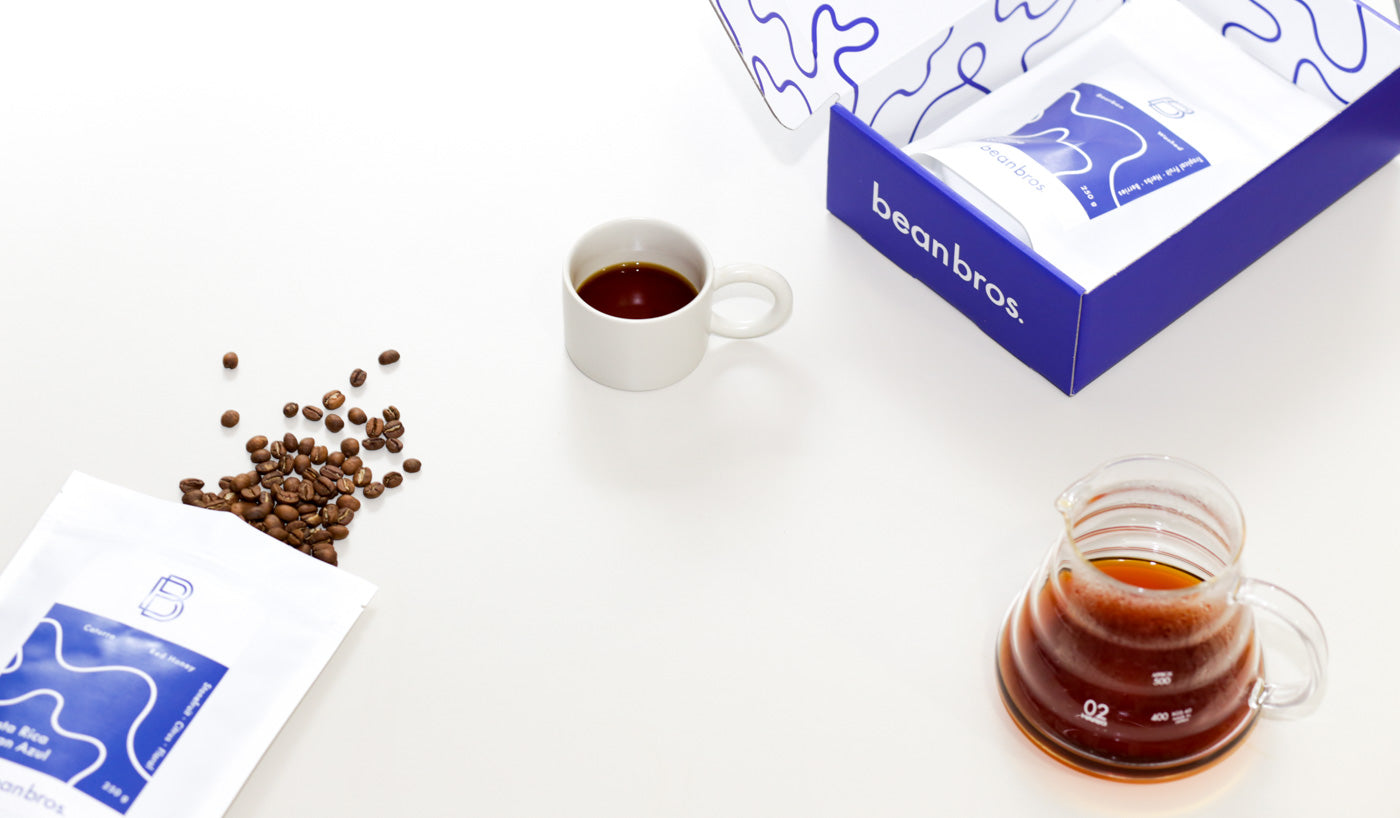 Check our coffee subscriptions
Our Subscriptions
Fresh-Roasted Coffee from the best roasters. On Repeat. Never run out of coffee again. A coffee subscription is the easiest way to enjoy fresh, delicious coffee delivered to your door every month.
Curated Coffee Subscription
• Curated coffee box offering fresh flavour profiles every month.
• Features some of the finest roasters from across the Nordics and Europe. 
• Includes a monthly info card, so you can hear the story behind the cup.
Bean Bros Coffee Subscription box
This is what's included in our Specialty Coffee Subscription.
Learn about different coffee regions and varieties with our included tasting notes and brewing tips.
World Wide Delivery
We deliver worldwide - we have subscribers from more than 50 countries!
Curated Subscription Box
Our professional team carefully curates the very best coffees, using years of experience to bring the most complex tasting profiles.
Always fresh
Our coffee is delivered fresh from harvest and roasting. there's no old coffee on our virtual shelves.
Fresh coffee delivered to your door every month.
This is our freshly roasted coffee subscription box delivered right to your door. Go ahead, join Bean Bros today!
Bean Bros Coffee Subscription FAQs
We choose our roasters depending on a number of factors. We want to give you the best experience of all the coffee industry has to offer. Therefore, we try to vary our subscription as much as possible, making space for both classic and alternative tasting profiles. We also always go with what we think tastes brilliant. There's so much amazing coffee out there. We've made it our task to find it and ship it directly to you!
As each bag is 250g, that means it will make around 15 cups of coffee, depending on whether or not you like to have stronger or lighter cups. (16gr / coffee) From this, you can work out which subscription suits you best. If you're having more than one cup a day, we definitely suggest that you go for one of the larger subscriptions with 3 bags. 
Yes, you can cancel your coffee plan by logging in to your dashboard. After you cancel, we'll send you any deliveries that you already paid for, and we'll never bill you again.
We aim to ship all orders within the first two weeks of the month.
We will inform you by email when your order is on its way. You can subscribe any time of during the month, but orders will usually ship out in the beginning of the month. Orders placed after the cut off date will receive their packages after the coming month.
You can add both, mix and match. It will be shipped together.
Our subscription features 3 different coffees (origins) from the same roaster. Order as many as you want, if you order 3 or more bags you will get 3 different ones from an amazing Nordic or European roaster.
Very fresh. We typically ship your coffee within a few days after it has been roasted. We source our coffee specifically for our subscribers to ensure your deliveries are as fresh as possible.
You should expect to receive the coffees about 2 weeks after we've shipped. But in some cases faster depending on your location.
Expected delivery times:
Nordics:2-3 business days (via DAO)
EU:4-7 business days (Tracked National Mail)
North America:7-10 business days (Tracked National Mail)
Australia:7-12 business days (Tracked National Mail)
South East Asia:12-24 business days (Tracked National Mail)
Indonesia: JNE Express - Local Delivery - Indonesia (5-12 days - TAX included)
China and HK:7-12 business days (Tracked National Mail)
Rest of the world:14-24 business days (Tracked National Mail)
Where it all began - the Bean Bros Specialty Coffee Subscription
Since the launch of Bean Bros, we've been selecting specialty coffee roasters from across the Nordics and Europe, delivering the best quality beans right to your front door. 
We use our taste preferences as a guide, creating a curated coffee experience which you have to try. Some of our offerings are from roasters you may have heard of, others not. The thing that matters to us is the complexity and quality of the coffee tasting profiles. 
To start subscribing, simply select the size of the subscription box you would like to receive - from 2 bag to 6. Then, we will deliver your subscription box once a month, containing whichever must-taste roaster we've selected for you. 
You can count on us bringing you fresh and exciting coffee experiences month in, month out. Give Bean Bros a try!
Some of our previously featured roasters
Morgon Coffee Roasters
One of our goals is to send fresh coffees to all parts of the world, so the freshest it can get is with fresh crop coffees. But it's even better when the beans are roasted by a fresh crew of coffee-loving professionals like Morgon Coffee Roasters from Gothenburg, Sweden.
Featured Roasters
Drop Coffee
Drop Coffee is not only our Scandinavian neighbor, they're also repeated winners of the Swedish Roasting Championship. They have a clear flavor vision - presenting as much of the coffees acidity and sweetness as possible.
Featured Roasters
A Matter Of Concrete (AMOC)
This month we are proud to bring a new roaster to your brew bar, Netherlands based A Matter Of Concrete (AMOC). Set in a unique building with historical and architectural interest and set up by Rob Clarijs who clearly has a real love for what he does. With such a combination the coffee this month can only be outstanding!
Featured roasters