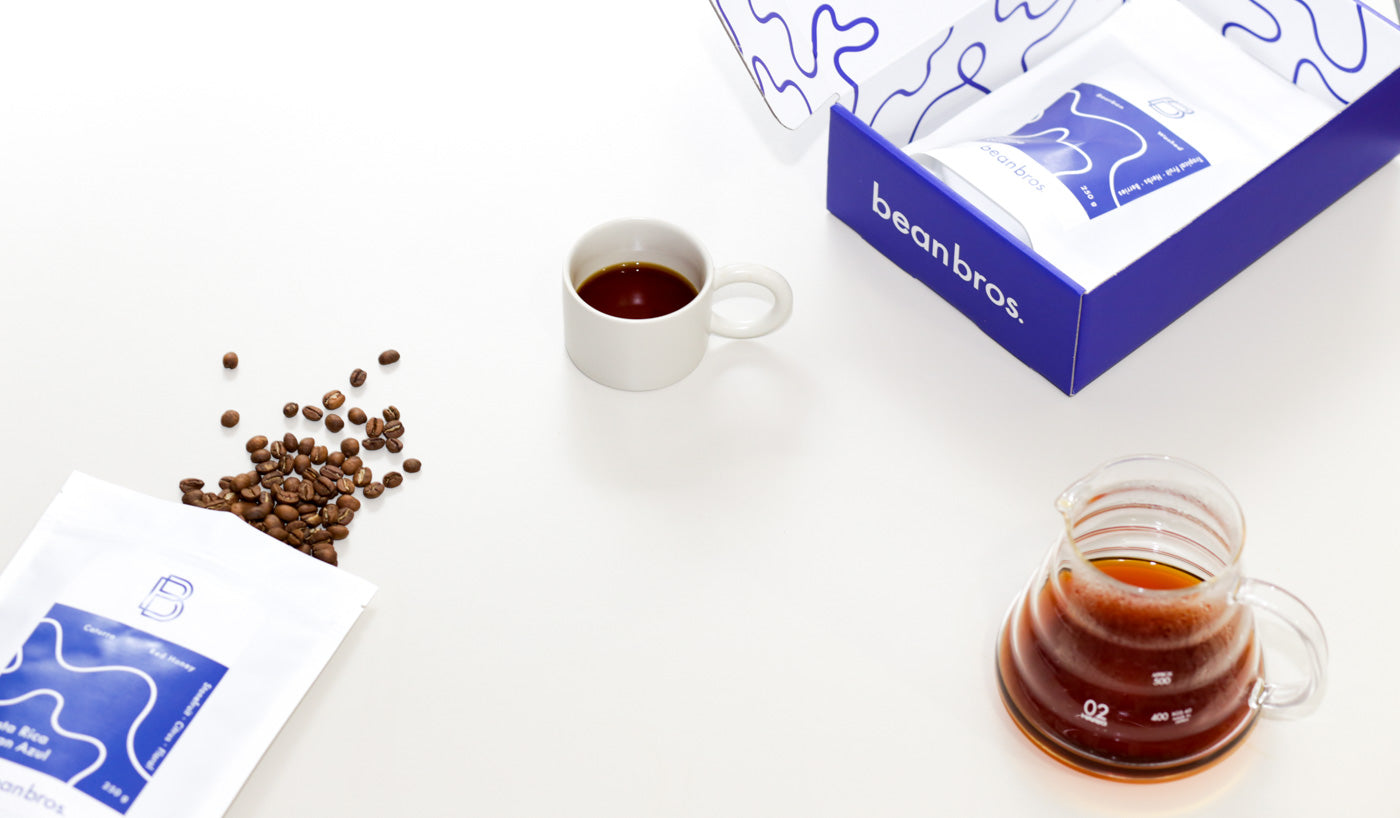 Learn more about your beans
 🎉 Party in Your Mug!
Dive into a cup with notes of raspberries and tropical fruit all the way from the Guji Zone in Ethiopia. And wait for it... there's an excellent floral and clean finish that'll leave you craving for more! It's perfect for filter brewing, or clean espresso. Can also be combined with milk for a delicious Flatwhite. 
🌍 From Ethiopia with Love
Hailing from the Hambella region, this coffee is a testament to Ethiopia's rich coffee heritage. The passionate farmers here have mastered the art of the Natural process, letting the coffee cherries sun-dry with the beans still inside. The result? A coffee that's as fruity as a summer jam!
🍒 Sun-Kissed to Perfection! 
These beans have been sunbathing! Yep, they're naturally processed, which means they chill out in the sun on patios or fancy raised beds. But it's not all relaxation – they get an excellent raking during the day and are tucked in at night or when it rains. This 4-6 week spa treatment gives them that clear, refreshing flavor we all love. It's like sipping on sunshine!
🌱 The Bean's Blueprint
Varietal: Heirloom – a true Ethiopian classic
Process: Natural – sun-dried with cherries intact for that fruity punch
Altitude: 1900-2200 masl – high altitudes for high expectations!
🌋 Wake Up with Volcan Azul!
Kickstart your mornings with the stone fruit symphony of Volcan Azul coffee. Dive into its fruity depths and let the sweet aftertaste linger.Whether you're a filter fanatic or an espresso enthusiast, this coffee's got the aroma and fruity flavors to make your taste buds dance!
🌍 A Journey to Alajuela! 
Take a sip and teleport to the Volcan Azul estate in the Alajuela region. With altitudes swinging between 1200 to 2600 meters, this estate sits pretty at 1200-1600 masl. The result? A coffee that whispers tales of red berries, brown sugar sweetness, and all things fruity.
🌱 Caturra & Catuai: The Dynamic Duo!
Bean Bros presents a blend that's the talk of the town – Caturra and Catuai. These varieties are the heartbeats of the Alajuela region, and together, they brew a cup that's honey-sweet with a fruity punch. It's like a flavor fiesta in your mug!
🌱 The Bean's Blueprint
Varietal: Caturra and Catuai
Process: Natural – capturing the bean's true essence
Altitude: 1600 masl – where the magic happens
🌱 A Coffee Lover's Dream!
All these elements come together to craft the Gatomboya coffee beans. They're not just any beans; they're a Kenyan coffee sensation! Dive into a cup that's bursting with sweet berry notes, hints of orange blossoms, a sprinkle of brown sugar, and a dash of cocoa. And the aroma? Oh boy, it's like a fragrant hug for your senses!

 🌍 Kenyan Coffee Magic from Embu!
Nestled in the heart of Mount Kenya National Park is the Embu region, a coffee wonderland! Picture this: mountainous terrains, rich volcanic soils, and altitudes that make your head spin (or maybe that's just the caffeine).
🤝 Teamwork Makes the Coffee Work!
Thanks to the region's many smallholder producers, every bean tells a story of dedication and passion.Here's a fun fact: many of the farms in Embu don't have their own equipment. But no worries! The co-op member farmers have got each other's backs. They share equipment, knowledge, and probably some coffee jokes too. This unique system, typical of Kenya, ensures that quality is king. The better the bean, the better the price. It's a win-win for everyone, especially for us coffee lovers!
🌱 The Bean's Blueprint
Varietal: SL28 & SL34 – Kenya's coffee royalty
Process: Washed – for a clean and vibrant cup
Altitude: 1700 masl – where flavors reach their peak
🍒 From Cherry to Cup! 
Imagine a coffee cherry so ripe, it's practically bursting with sweet, liqueur-like goodness. Whether you're team espresso or team filter, this Yellow Bourbon variety's got your back. Dive into flavors of yellow plums, indulgent milk chocolate, and roasted hazelnuts – a flavor trio that screams "Brazil!"
🌍 Brazilian Coffee Fiesta with Daterra!
Introducing the Daterra Collection – the crème de la crème of Brazilian coffee. These beans aren't just picked; they're handpicked, pampered, and passed through the elite Penta System. Think of it as a VIP lounge for coffee beans, ensuring only the best make the cut.
🌱 Freshness is Key! 
What's the secret behind that delicious coffee flavor? Fresh beans! Baterra farm, perched at 1200 masl, has its harvest time in the late summer. The natural processing adds that signature fruity zing. And now, thanks to Bean Bros, you can experience the latest harvest and let your taste buds samba with the magic of Brazilian coffee!
 🌱 The Bean's Blueprint
Varietal: Yellow Bourbon – sweet and full-bodied
Process: Natural – for that authentic Brazilian touch
Altitude: 1250 masl – where flavors come alive.
🌍 Colombian Coffee Carnival from Buesaco, Nariño!
Get ready to samba with flavors! Dive into a cup that's bursting with notes of pineapple, green apple, peach, and a comforting milk chocolate hug. Why the sweet chocolatey notes, you ask? Say hello to the Castillo varietal! This special hybrid bean is like the superstar of the coffee world, known for its signature sweet and chocolatey melodies.
🌊 A Splash of Crispness! 
Our beans don't just wake up looking and tasting this good. They go through the Washed Long Fermentation process, a meticulous spa treatment that ensures they're at their fruity best. From careful cherry selection to controlled fermentation that can last up to a week, it's all about giving you that crisp, fruity flavor in every sip.
👨‍🌾 Meet Isidro & Aura!
Isidro Castillo, our coffee hero from Buesaco, along with his wife Aura, turned a 2-hectare dream into a 15-hectare coffee wonderland over 30 years. Their dedication brews in every cup, supports their family, and provides jobs for 90+ folks during harvest. Talk about brewing a difference!
🎉 Nariño: The Coffee Capital!
Nariño isone of the most active coffe farming region in Colombia. The beans here? Among the world's finest. So, for a coffee experience that's nothing short of extraordinary, let our Colombian beans take center stage in your cup!
 🌱 The Bean's Blueprint
Varietal: Castillo – a Colombian gem
Process: Washed Long Fermentation – a meticulous method for maximum flavor
Altitude: 1800 masl – where beans become legends
Did you like our beans ?
Subscribe to our monthly subscribtion, and never run out of freshly roasted coffee!
World Wide Delivery
We deliver worldwide - we have subscribers from more than 50 countries!
Curated Subscription Box
Our professional team carefully curates the very best coffees, using years of experience to bring the most complex tasting profiles.
Always fresh
Our coffee is delivered fresh from harvest and roasting. there's no old coffee on our virtual shelves.